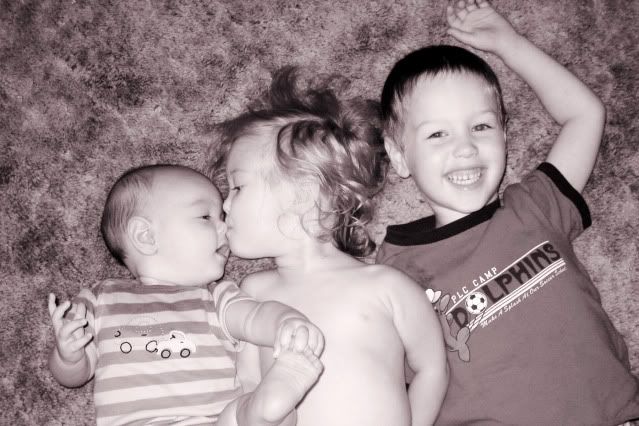 This is just a quick update on the kids - I still have a ton of pictures from the later part of the summer to put up, but for now you will just have to look at these few.... or better yet come visit us and get a ton of hugs and kisses from the kids!
(and give us a break too!)
Drew

- is loving every minute of school. He asks every morning if he gets to go that day and on the days he does he is running into his classroom. I always have to call him back to get a hug and kiss. The only bad thing about school is that he feels like he must make up for his lost hours of tormenting Sarah so his afternoons are spent doing everything he can to make Sarah scream.


Sarah

- she isn't sure what to think about Drew being at school. Some days she loves it, others she just follows me around and asks "where's Drew?" She has also started repeating phrases that she hears all the time. She talks ALL THE TIME! So between her and Drew I never get minute where someone isn't talking to me.
Ryan

- He is growing up so fast! In the past 2 weeks he has started rolling over from back to belly all the time. He did it for the first time on Aug 8th but then wouldn't do it again until the past week when he started doing it everytime you put him on his back. I have a feeling he isn't going to do anything until he can do it right. He has rolled from belly to back one time, but again he hasn't done it again. One of these days I'm going to just find him rolling across the room once he figures it out. This past week he has also started to tripod sit. He can only balance for about 15 to 20 seconds before he gets too excited and throws his arms up and loses his balance again. We are also going to be starting baby food soon since he sits on my lap at dinner and trys to grab all my food off my plate.